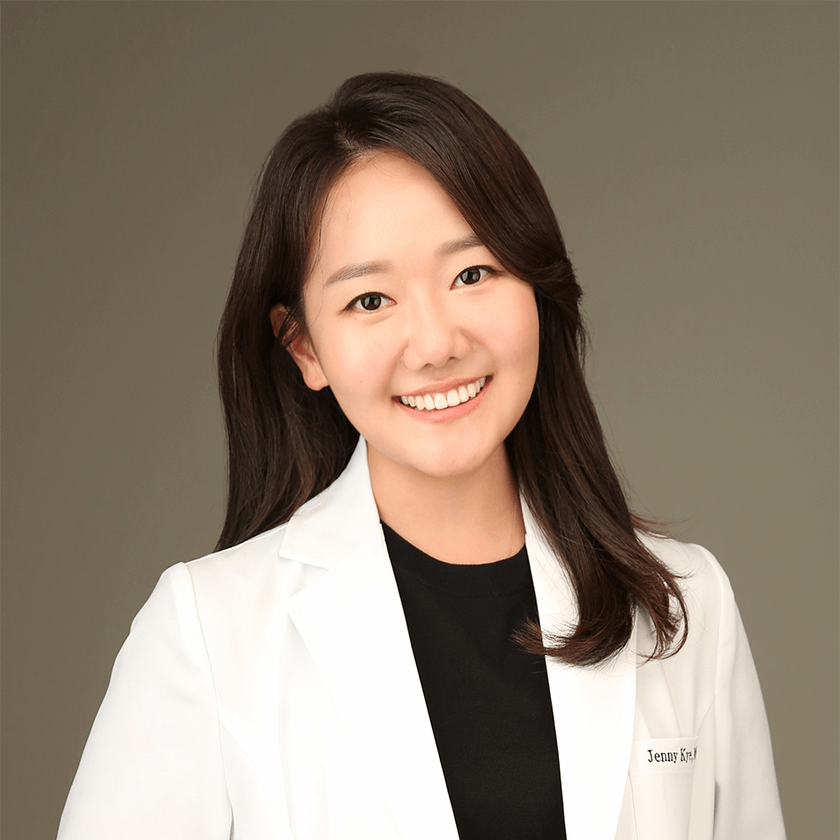 Skilled dentist Dr. Jenny Kye is thrilled to provide comprehensive services for patients and their families in Washington, D.C. At Chang & Rothkopf Dental, Dr. Kye sees individuals of all ages and is well-tuned with the needs of children, teens, and adults alike. She specializes in many different areas of oral care, including dental implants, restorative procedures, cosmetic treatments, and preventive care. With a combination of her soft hands, a discerning eye for detail, and a compassionate personality, Dr. Kye ensures that every one of her patients gets the utmost care in a comforting atmosphere with a beautiful smile in the end.
Dr. Jenny Kye is a comprehensive care dentist who specializes in preventive, restorative, and cosmetic dentistry. She is also a certified provider of Invisalign® treatment and is a member of the International Congress of Oral Implantologists. Her dedication to ongoing education has allowed her to further develop her skills as a primary care dentist, as well as learn new techniques and stay up-to-date with all of the advancements in modern dental care.
CERTIFICATIONS & PROFESSIONAL MEMBERSHIPS
Dr. Kye earned her bachelor's degree from the University of Toronto in Canada, where she double-majored in human biology and physiology and received the honor with high distinction. During her college years, she was deeply involved in medical research projects and had several accomplishments, including a journal publication and winning second place in the Golden Key International Honor Society Undergraduate Research Poster Competition. She then went on to earn her Doctor of Dental Medicine (D.M.D.) degree from Boston University, graduating magna cum laude.
Currently, she is a certified Invisalign treatment provider and continues her education rigorously through post-doctorate seminars and programs. Some of her professional memberships include:
American Dental Association (ADA)
American General Dentistry (AGD)
International Congress of Oral Implantologists (ICOI)
District of Columbia Dental Society (DCDS)
Originally from Seoul, South Korea, Dr. Jenny Won Young Kye grew up in Vancouver, Canada, with her parents and younger brother. On her days off, Dr. Kye enjoys playing the piano and guitar and can often be found exploring the local food scene with her husband, Dr. Chang. Her mini goal for 2022 is to practice her golf swings enough to be able to play out on the golf course with Dr. Rothkopf and Dr. Chang!
Reviews
"This is a great dental office! I wanted to extend my gratitude to Dr. Chang and Dr. Kye for accommodating me for an emergency visit during the weekend. The care they provided was excellent and gentle. Great team of dentists!"
D.M.
Google
"Dr. Kye was knowledgeable, competent with a very calming bedside manner. Although I was an unscheduled, emergency visit, she stayed after business hours to explain my upcoming treatments."
R.R.
Google
"I love love love these Dentist especially Dr. Jennifer kye,she is so gentle and very caring, very knowledgeable too, always on time and the staff are all so sweet Luisa and Tamara this includes you too, Dr Chang I've met and he's very very nice I thought it was so sweet that Dr Kye makes sure her patients mee the other Dentist that are in the practice Dr.Rothkopf is such a sweet doc I've had him as my Dentist for years but now its Dr Kye's turn and what a pleasure I can't say enough about her or her staff we don't always think that going to the Dentist is nice but this office, from the first time you step in you are warmly welcomed and well taken care of and let me not begin to talk about the warm towelettes I absolutely love them!!!! Thank you all for always,always making me feel welcomed and very comfortable. Patient Donna B."
D.B.
Google
"I've always had a great experience here. Dr. Rothkopf has been my family's go-to dentist for decades. He's always made me feel comfortable, and I trust his judgment. I recently saw Dr. Kye for some dental work, and she is thorough, kind, and very gentle. I almost drifted off to sleep while she was working! Great staff all around. Highly recommend."
A.R.
Google
"Dr. Kye is a terrific dentist--extraordinarily conscientious, thorough, and communicative. The hygienists, assistants and staff are all outstanding. I have been a patient of Dr. Rothkopf's for many years, and the addition of doctors Kye and Chang ensure that this practice will continue to live up to its excellent reputation."
P.C.
Google
Related Post